Healing Time for an injury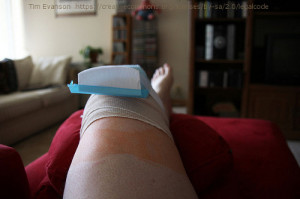 Hello Friend – I've been looking into ideas to continue teaching my readers and a friend suggested I use the most commonly asked questions I hear in the office. If you have a question you would like me to answer, please feel free to comment below and I'll put it on my list!
How long will this take?
That depends on what is diagnosed, and whether there is one diagnosis or multiple issues. Are you here for simply a spinal check? Or did you have a sudden onset of pain? Do you also have ongoing neck aching that you'd like to treat and fix?
Healing takes time and you need the facts:
1. A damaged muscle will have a healing time between 3 and 6 weeks to heal. (Think pulled hamstring.)
2. A damaged tendon or ligament can take 2-6 months in healing time. (Think twisted ankle.)
3. A broken bone will take 6-8 weeks to heal. (Think broken arm that gets a cast.)
4. A ligament or tendon damaged from "repetitive stress trauma" can actually take months to years to realign and regrow properly. (Think neck pain that started slowly after years on a computer with poor posture.)
Together we will address your complaints and determine what the possible diagnosis is/are. You will always have options in treatment.
1. Relief Care: We address primarily the area that is in pain. We help that area heal and get you back on your feet. The specifics of your treatment plan will be discussed as we begin your treatment.
2. Corrective Care: We dive deeper into the problem, work on the area that is in pain, and then look further to determine other areas in the body that may be contributing to that pain cycle or to other pain cycles.
3. Wellness or Preventative Care: We look top to bottom, address all the areas that need maintenance to keep your body functioning 100%. It is especially important in preventing repetitive stress trauma pain and is the type of care that chiropractors provide to their family.
Similar to how we believe that if you have teeth you should have a dentist, I believe that if you have a spine, you need a chiropractor. (If you don't have a spine, then goodness, I would love to meet you as well!)
Similar to how the dentist expects you to go home and brush your teeth daily, floss and follow their instructions,I LOVE to give my patients homework. Movement is important in healing and whether I send you home with simple breathing exercises or more complicated release-activation exercises, they are a valuable part of your treatment plan.
I'm a little different than a lot of chiropractors out there as well. My passion involves a lot more than simply adjusting the spine. I enjoy treating your elbows, shoulders, knees, and headaches. The truth is, there is no one size fits all treatment and there is no one size fits all plan.
Of course you still have questions, so call today and we can get you answers!
Connect Chiropractic @ 2017 All Rights Reserved
SEO by http://www.sbbsm.com