Ogden Elite Football Camps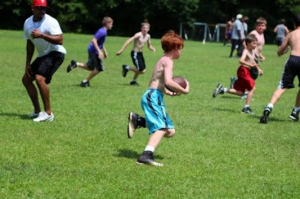 So I'll let you in on a little secret… I LOVE football!! I love watching it and I love treating the young athletes! (I do not particularly like playing it as I don't like being sore…lol) I watch my Buffalo Bills play every week like its a religion and I'm equally as obsessied with my Fantasy Football team!
Long story short – one connection led to another and here I am, telling you about my
sponsoring the Ogden Elite Football Camps.
Upon meeting Marques Ogden, I felt like he was a man who was teaching his students not only the best and safest ways to play football, but also teaching these young men to be dedicated, responsible adults.
I can't wait to get to the first camp and meet the players and their parents, and help them in their journey! Whether it's just a love of the sport and playing while they're young, or if their goal is to make it to the NFL and become a pro player like Marques!
At the end of the day, Football is a tough sport. It's tough on the body, and its tough on the emotions. It can be exhausting an rewarding, and each player needs to learn to take care of themselves.
Surrounding themselves with a true health care, preventative team is the most efficient way to do that!
And let's not forget the Mom's and Dad's running around, taking them from practice to practice, and from stop to stop. Spending all that time in the car and in bleachers, you might need a little support as well. I'll be here for you, too!
Anyways, we will keep you posted on the happenings, and we hope to see all your young football players reach their goals safe and healthy!
Connect Chiropractic @ 2017 All Rights Reserved
SEO by http://www.sbbsm.com