I think that being a skeptic is essential when you work in complementary medicine. Not because I believe that a lot of treatments aren't real, nor do I believe that anyone is trying to lie to us. I also realize that the hard science isn't always there to back up a product, which is why I need to see a product in action before I jump in.
Kinesiotape is a product that has a distinct moment of clarity for me where I went from being a skeptic, to being a believer.
While I was in chiropractic school, we had the opportunity to volunteer to help with a Susan G. Komen 3 day for the Cure event. We weren't signing up to walk 60 miles in 3 days. Instead we were signing up to work in a medical tent for 3 days to help those walking get through. Our goal was to put our musculoskeletal diagnosing and treatment skills to use to help the walkers complete their goal.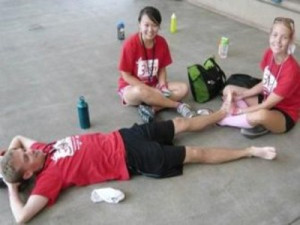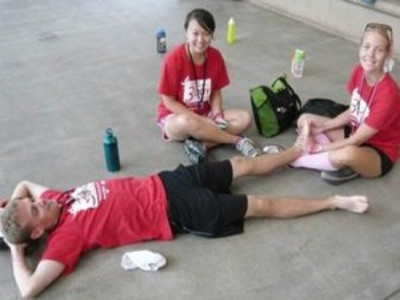 My roommate Allison Chmielewski and I on Day 3!
For this event, someone had donated hundreds of dollars worth of bright pink kinesiotape for us to use and as far as the medical tents went, we were the only group of volunteers that knew how to use it. And let me tell you, use it we did! If you came in with hip pain, or knee pain, or low back pain, or foot pain, we did our evaluation, some soft tissue work, and then we would put some tape on it based on findings, and send the walker on their way. Up until this point, I had never had an amazing experience with the tape. I understood the concept, I was able to utilize the techniques and I felt competent in using it as a treatment option, but part of me was still like, "Meh, its just a placebo!" (which btw, there is also a time and place for placebos, but I'm sure I'll get into that in the future)
So lets make a 3 day long story short. People who were taped were coming back to the tent after say walking another 20 miles and were ecstatic! Perhaps their pain wasn't 100% cured, but they were able to get through another 20 miles with less pain and more ease. And what was crazier, is that the repeatedly said things like, "As soon as I took the tape off, I could feel the ache coming back, so can you tape me again!" I was slowly becoming less of a skeptic…
I will admit, by the last day, we were a raggedy bunch of chiropractic students and doctors. We had been tested on levels that were new to us. Not only was there non-stop patients for us, but we were also on our feet running around on concrete and then sleeping outside on cots for the weekend. When Day 3 came around, I came down with one of the worst cases of Plantar Fascitis I have EVER had! It honestly felt like I was walking on burning shards of glass. We were packing up our tents and loading up the truck with our tables and equipment and I was hobbling around like the ground was lava. It was intense.
Fortunately, my friend Chase was smart enough to tell me to sit down. He was going to put Kinesiotape on my feet. (I mean DUH! I had just taped up approximately 1 million people with plantar fascitis, you would think I would have thought of it for myself!)
I have to tell you, and this is not an exaggeration… I went from feeling like the earth was on fire beneath me, to feeling like someone had just placed cool, memory foam pillows underneath my feet. It was incredible. That was my moment. That was my "Oh my goodness, this tape is incredible!!!!" moment.
To end the weekend, we were scheduled to be part of the finish line crew. We were there when hundreds of people who had just walked 60 miles crossed the finish line! Many were walking in memory of a lost loved one, and some were walking in triumph of having beaten their disease into remission. The celebrations were some of the most emotional celebrations I have ever been a part of. What was even more incredible, is that as we were standing there cheering and yelling, a lot of the walkers would pick out the chiropractor that helped them and then come over and thank us.
It was a humbling and truly life changing experience. But I want you to know that when I give you a treatment option, and you look at me and go, "Does it really work, doc?" I understand your skepticism, and yes, I hope it really works.
After Chase Taped my feet, I taped his!
The whole crew of chiropractors and students!
Connect Chiropractic @ 2017 All Rights Reserved
SEO by http://www.sbbsm.com