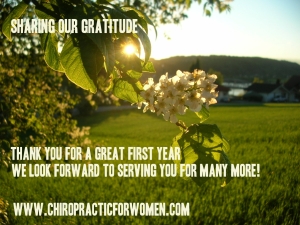 As March comes to a close, we realize Connect Chiropractic is fast approaching its one year anniversary! There is only one way to feel at such an important time as this…
Grateful.  
We are grateful for so many things, especially the connections we have made in and out of the office. We are grateful for the patients that we've seen and the referrals they've sent. We are grateful for the positive reviews and even the less than positive feedback. (Yes, that first website was a bit of a mess!) We are grateful that we have been able to help so many people and help so many women through their pregnancies. We are especially grateful that we have been able to meet so many adorable new babies!
So I'll get to the point. The best was to share in our success and to share our gratitude is to share that with you and your friends and family!!
We look forward to meeting and working with you and your loved ones.
Please don't hesitate to call with questions at (919)307-9610 or
schedule here
!
As Always
Keep Moving,Dr Cate Niezgoda
*PS – if you decide to purchase additional treatment, you have the legal right to change your mind within 3 days and receive a refund. Not valid for medicare patients*
Connect Chiropractic @ 2017 All Rights Reserved
SEO by http://www.sbbsm.com